Cold, Coryza, sneezing, runny nose, nasal congestion, and minor sore throat are common health problems for which we commonly rely on OTC allopathic drugs. Today I will tell you about a homeopathic medicine named ColdCalm, which is an effective combination of common cold homeopathic medicines. One must give a try, because ColdCalm is very effective in initial symptoms of Cold / coryza (sneezing, runny nose, nasal congestion, and minor sore throat pain).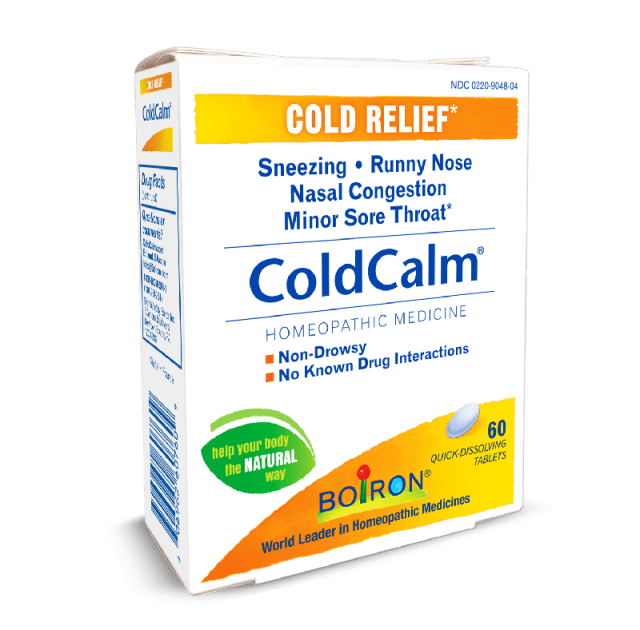 ColdCalm is a proprietary product of Boiron USA which has been operational since 1932 in the field of manufacturing quality homeopathic medicines. Boiron ColdCalm tablets target specific cold symptoms at the onset, established and resolution stages of the common cold. This homeopathic cold medicine is easy to take at first sign to relieve sneezing, runny nose, nasal congestion, and minor sore throat pain*.
These tablets are a combination of following homeopathic medicines which are successfully used in homeopathy for treating Cold/Coryza Symptoms.   
Allium cepa 3C –  Relieves sneezing and runny nose

Apis mellifica 6C- Relieves nasal congestion

Belladonna 6C – Relieves colds with a sudden onset

Eupatorium perfoliatum 3C – Relieves sinus pain

Gelsemium sempervirens 6C- Relieves headaches associated with colds

Kali bichromicum 6C – Relieves nasal discharge

Nux vomica 3C – Relieves sneezing attacks

Phytolacca decandra 6C – Relieves sore throat associated with colds

Pulsatilla 6C – Relieves colds with a loss of taste and smell
All the above homeopathic medicines are officially included in the Homeopathic Pharmacopoeia of the United States.
The tablets dissolve quickly under the tongue without water, chewing, or swallowing pills. It's non-drowsy and does not interact with other medications or supplements. Coldcalm is not habit-forming and there's no risk of a rebound. It won't mask symptoms of a more serious condition.
Recommended for everyone ages 3 and up, it's available over the counter in a box of 60 unflavored tablets.
For children slightly sweet melt-away pellets are also available and liquid doses also available for babies.
Adults and children 3 years of age and older: At the onset of symptoms, dissolve 2 tablets under the tongue every 15 minutes for 1 hour. Then, dissolve 2 tablets under the tongue 3 times a day, until symptoms are relieved.

Children 3 to 6 years of age: Dissolve 2 tablets in 1 tablespoon of water for easier intake. Follow directions above.
Ask a doctor before use in children under 3 years of age.

Stop use and ask a doctor if symptoms persist for more than 3 days or worsen, or if sore throat persists for more than 2 days or occurs with a fever, headache, rash, nausea or vomiting.

If pregnant or breast-feeding, ask a health professional before use.

Keep out of reach of children.
Healthcare Disclaimer
The information, including but not limited to, text, graphics, images and other material contained on this website are for informational purposes only. The purpose of this website is to promote broad consumer understanding and knowledge of various health topics. It is not intended to be a substitute for professional medical advice, diagnosis or treatment. Always seek the advice of your physician or other qualified health care provider with any questions you may have regarding a medical condition or treatment and before undertaking a new health care regimen, and never disregard professional medical advice or delay in seeking it because of something you have read on this website